Сертифицированный русский переводчик в Нью-Брансуике Certified Russian Translator in New Brunswick
Заверенные переводы документов, письменные переводы, локализация, редактирование, услуги присяжного комиссара
Certified document translation, general text translation, localization, text revision, Commissioner of Oaths services
Moncton, Woodstock, St. John NB | Halifax NS | Charlottetown PE | Toronto ON | Winnipeg MB | Rest of Canada
Free delivery of certified translations anywhere in the country by Canada Post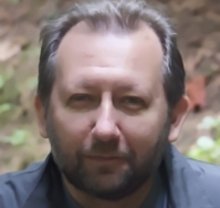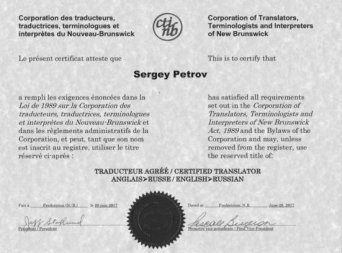 A native of Russia and a long time resident of Canada, I earned my BA in Linguistics (English and German languages) in Russia. I worked as an in-house Russian/English translator for bookselling and publishing companies in Moscow for a number of years. Upon coming to Canada I continued my studies and received my Master of Arts and PhD degrees from the University of Calgary, Alberta in 2006 and 2010 respectively. A partial list of my academic publications is available at Academia.edu. I am a certified member of the Corporation of Translators, Terminologists and Interpreters of New Brunswick (CTINB), being one of the very few officially recognized Russian translators in this province and in the Maritimes. Please check out my profile at the CTINB website. All provincial translators associations in Canada are part of the countrywide umbrella organization called The Canadian Translators, Terminologists and Interpreters Council (CTTIC). Certification is the highest level of professional recognition for a translator in Canada. It requires passing a rigorous two-step exam and presenting proof of substantial professional experience. Translations done and authenticated by a certified translator do not need any further certification (such as by a notary or a commissioner of oaths) and they are accepted by all Canadian government agencies. Some government agencies, such as Passport Canada, accept only translations done by certified translators. I am based in Dieppe NB, but I have seamlessly worked for customers across New Brunswick and beyond. In addition to certified translations of personal documents my services include translation, revision and proofreading of texts in general as well as localization assistance. Please let me know about your translation-related needs, and I will be happy to help you!
My Services

I'm always happy to offer custom solutions, based on the needs and desires of my clients.

Certified Document Translation
Certified translation of documents for immigration and other legal purposes (passports, entry stamps, birth certificates, diplomas, etc.) from Russian and Ukrainian. Urgent service available. I accept scanned images of documents by e-mail. Once completed I return translations to you by regular mail (free of charge) or by the courier of your choice (you cover the shipping). 
General Text Translation and Localization
My services include translation, revision and proofreading of texts, localization assistance and style correction. My areas of specialization include Education, Public Relations, Tourism, Journalism, Humanities in general, Religion and Spirituality.
Translation of Archival Documents and Genealogical Research
I can sort out, classify and translate your family records (vital stats documents, correspondence etc.) from the Russian Empie or the ex-USSR. Based on the data from your archive I can provide you with an ancestry/family tree report. Please click here for more details.
Testimonials

My main focus is to offer my clients only the best results. Satisfaction is guaranteed!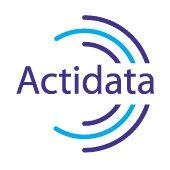 ООО Актидата
Москва, Россия­
Пользуемся давно услугами Сергея для перевода текстов самой широкой тематики, от маркетинговых материалов до ­финансовой и таможенной документации.­ Самые ­положительные впечатления - всегда качественно и вовремя.­

I really appreciate your help. We'll stay in touch and I will definitely contact you when I need help with similar matters.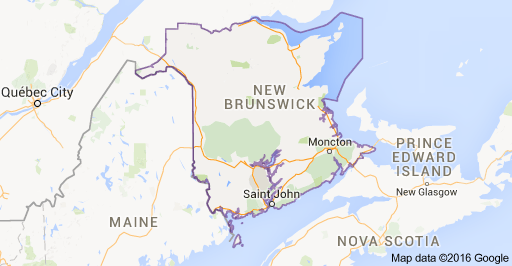 Margarita
St. Andrews, NB­
Сергей, спасибо большое за переводы и совет.­
Why choose me
I have an extensive experience when it comes to tanslation and text editing. I do everything with passion and this way I can offer my clients the best results.

Experience
I have over 15 years of experience in translation and text editing. My high professional standards are confirmed by membership in the Corporation of Translators, Terminologists and Interpreters of New Brunswick.

Very competitive prices
I work independently from my home office. Hence, my overhead costs are noticeably lower than those of large translation agencies. This translates into lower prices and more flexibility for you.

Creativity
The most important thing is that the end result pleases the customers and is exactly what they desire.
Contact
Got a question? Need a quote? Please let me know!